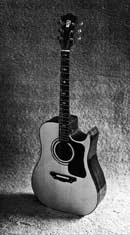 DT Luthier Supplies specializes in crafting quality Engelmann Spruce soundboards.  Our spruce supply comes from Northwestern North America.  It grows at an altitude of 4,000 – 6,000 feet, which results in uniform straight grain ranging from 14 – 35 growth rings per inch.  Our sound boards are cut from hand-split billets to prevent grain runout.
Engelmann spruce is a tonewood prized for its acoustic qualities. The sound of an Engelmann spruce soundboard projects much more than the commonly used Sitka spruce.  Engelmann spruce soundboards are often reserved for the highest quality instruments.
We sell spruce soundboards suited for guitar, mandolin, or violin.  We have both jumbo guitar tops and classical guitar tops.  For the discerning luthier, we have master grade soundboards.  However, with four grades to choose from, we have an authentic Engelmann Spruce soundboard ideal for every guitar-making occasion.