Why Choose Engelmann Spruce Tonewood?
Luthiers have long known that tonewoods are not created equal.  Whether a luthier looks for guitar woods or violin woods, different tonewoods have different qualities, each suitable to specific applications.  When it comes to guitar tops, spruce tonewood is often the first choice.  However, even among spruce tone wood, all is not equal.  For many discerning luthiers, it is the prized German White Spruce (sometimes called European White spruce) that makes the most magnificent guitar top.  Indeed, German spruce still sells for a premium.  But should it?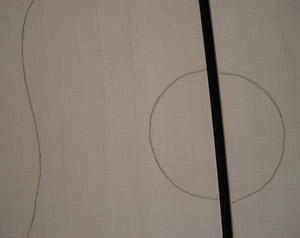 The truth is, the famous German spruce once so prized as a luthier wood for its beautiful, uniform, tight white grain, is no longer available.  In fact, nearly all of the spruce sold by German luthier suppliers is imported from other countries and then rebranded as German spruce, after which it is sometimes sold to Luthiers in the very same country from which the woods originally came!  Now, this isn't to say the wood isn't a quality luthier wood.  On the contrary, it is an excellent choice of tone wood, particularly if it is a quality spruce top you are after; and especially if you end up getting an Engelmann spruce top.  But the fact remains, the price paid for these woods is inflated because you are paying for the brand name (not to mention the shipping back and forth across the ocean).
What Sort of Spruce Tops Are You Really Buying?
The most common type of spruce is Sitka spruce, or Picea sitchensis.  Sitka spruce is the topwood found in many guitars and it is known to be a consistent and quality wood, which will allow any luthier to produce a decent spruce top guitar.  The abundance of Sitka makes it readily available, and this is perhaps the reason it is used so often.  You likely aren't getting Sitka spruce when you buy German White spruce, unless of course the spruce you get lacks the unique white coloring German spruce is known for; in this case, it is surely Sitka spruce.
However, if the spruce you receive does indeed have the pure coloring you'd expect from premium German White spruce, then you likely have a more uncommon type of spruce.  Picea engelmannii, or Engelmann spruce as it is commonly known, is a much more rare variety of spruce that shares the sought-after coloring of its German cousin.  This is the only variety that compares to the now unavailable European White Spruce; and this is the spruce you likely get if you pay a premium for "authentic" German White spruce today.
The Best Acoustic Guitar Spruce is Engelmann
Engelmann spruce is the least commonly used acoustic guitar spruce because it is much rarer than the ubiquitous Sitka Spruce.  However, there are pockets of Engelmann growing in the high elevations of the American Rockies.
Engelmann is cherished for its consistent coloring, its tight grain patterns, and its light weight.  It produces guitar tops that project louder than many other woods, and it is used in extremely high end guitars.  Often described as producing a more open sound than the more common Sitka spruce, Engelmann is truly today's premium spruce luthier wood.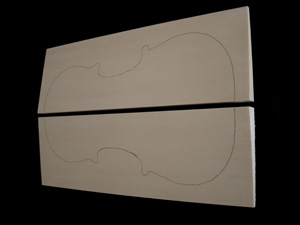 DT Luthier Supplies specifically harvests this sought after spruce and offers extremely competitive prices, especially when compared to those offered by German White spruce sellers.  Whether you need a guitar soundboard, violin top, or mandolin soundboard, our premium Englemann spruce tops are without a doubt some of the best available anywhere.